Bin Jacking
Here in the Midwest, grain farming is a huge industry. If you are a grain farmer, you know how important it is to have somewhere safe to store your crops. That is where Quad County Ag LLC. comes in. We specialize in constructing and repairing grain bins for farmers in Iowa, Indiana, Nebraska, and Illinois. Here at Quad County Ag LLC, we have been providing the Midwest with quality grain handling, storage equipment and millwright services since 1979. The family owned business has passed from father to son, and our expert team of employees has several years of work experience.

Maintaining strong and secure grain bins is important to the success and financial stability of your farm. If there is a structural problem with your grain bin, it could lead to cracks around the base of the bin, or damage to the steel panels in the bin. We offer bin jacking services to help you take care of any grain bins that may be in need of special attention. Bin jacking is used to lift the grain bin so that new panels or a new foundation can be installed and any cracks repaired. Keeping your grain bin in good condition will ensure that the grain inside the bin remains dry and safe from the outdoor elements.
Bin Jacking in Iowa and Illinois
Farming requires many different pieces of equipment and machinery installations and repairs. We also offer grain bin construction to help you get your business started or to expand an existing operation. Whether you need new construction or repair work on your old grain bins, we are the top choice for Midwest grain handling and storage services. Our team also specializes in several other services to benefit your farm, including: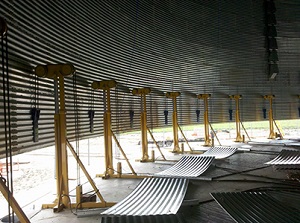 Concrete Solutions
Millwright Services
Commercial Grain Bins
Farm Grain Bins
Grain Handling Equipment
If any sort of problem develops with your grain bins, it could lead to major damage to the crops stored inside the grain bins. That is why it is important to invest in bin jacking at the first sign of damage to your grain bin or the foundation of your grain bin.
For all of your grain bin jacking and other grain handling and storage related services throughout our service area, which includes Iowa, Illinois, Nebraska, and Indiana, contact Quad County Ag LLC. today.