Bin Jacking and Grain Handling in Louisiana
There are nearly 8 million acres of farmland in the state of Louisiana. As the demand for corn increases, so does the need for farm and commercial grain bins. At Quad County Ag, we can provide you with quality grain handling equipment for all of your grain storage or grain loading needs. We have over 30 years of experience in construction, repairs, rental service, and sales for all grain systems. If you need assistance, we can help determine the best modifications for your needs.
We make it easy to store and transport grain with grain handling and equipment as well as grain bin options. Our grain handling equipment can help you run your grain operation smoothly and efficiently and reduce wasted grain to maximize profits. Contact us to find out what kinds of grain handling equipment and other agricultural equipment we can provide for your farm in the state of Louisiana.
We also make sure the foundations for your grain bins are structurally safe and sound. They are built carefully from beginning to the end. If any issues occur, we make sure your problems are quickly resolved with our bin jacking service. This service allows us to lift the grain bin, repair the foundation to stabilize the bin, and then lower the bin back to the proper level. Find out if this is the right option to take care of your grain bin foundation problems in Louisiana by calling our team as soon as possible.
Quality Farming Needs and Equipment in Louisiana
Farms require various services to keep them up and running. Whether you are in need of grain storage, millwright service, crane operators, or other agricultural services, we have you covered. We focus on building high-quality grain bins customized to your design. Our bins stand up to harsh weather conditions and are durable to withstand the test of time and last for years to come. By pouring the foundation and then constructing the bin, we handle all of your grain bin construction needs from start to finish. Quad County Ag provides the following services: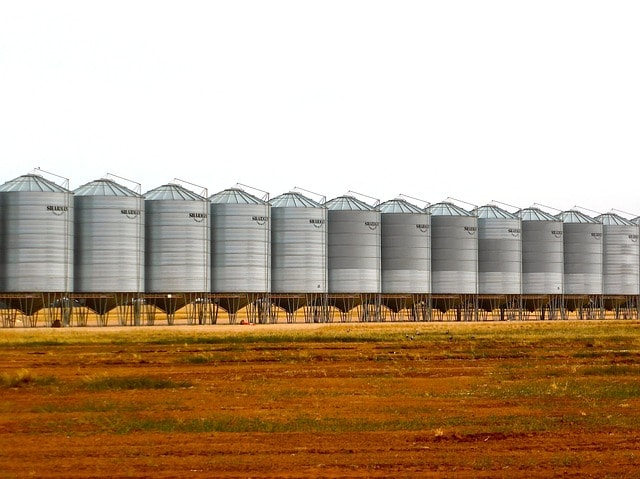 Concrete Solutions: We build concrete foundations to make sure your grain bins are structurally supported.

Millwright Services: Our millwright crew is fully trained and certified to assemble grain bins, design projects, and maintain necessary repairs for your existing equipment.

Bin Jacking: We can accurately raise grain bins to repair sunken concrete slab and a deteriorating base.

Grain Handling Equipment: We use the latest equipment on the market such as bucket elevators, motors, drive over hoppers, conveyors, and more. Each product is field tested at the highest capacity.

Crane Operators: We provide certified crane staff to perform the necessary crane services across Louisiana.

Design: If you want to expand or renovate your grain storage facility, we provide innovative designs by using Auto Cad.

Equipment for Sale: We provide rental, used or new farm equipment at competitive prices. We also have farm equipment auctions for all your farm needs.
Contact Quad County Ag for grain handling or bin jacking in Louisiana. We use well-known suppliers such as Baldor and Chief Industries. We've been serving customers for over 30 years, expanding in size and reputation. Contact us today, so one of our representatives can assist you.