Grain Bin Design
Having a safe place to store grain is an important part of any grain farm. Quad County Ag, LLC. can help with all of your grain storage needs, Our skilled team of employees is dedicated to giving you the best possible solutions for your individual farm. We offer a large product line to give you quality options and ease of installation.
The first step is to determine your needs and to then find and design the best solution for you. Our team of crews and project managers can help figure out the design that will best suit your farm's needs. We can provide all of the necessary services for grain bin construction: pouring the concrete slab, designing a suitable grain bin, and constructing the bin with the highest quality products.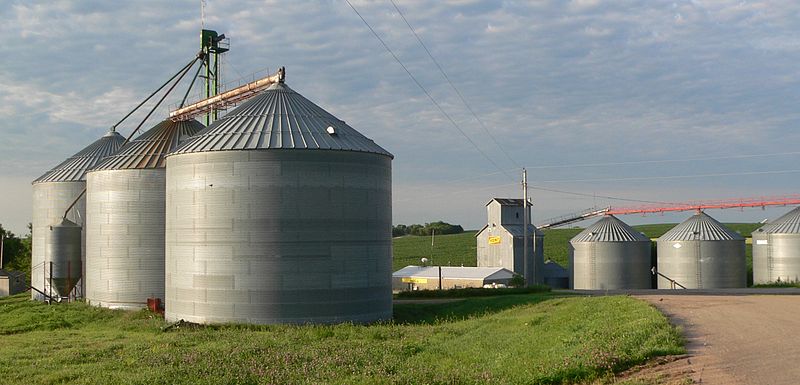 The grain bins from Quad County Ag are specially designed to withstand extreme weather conditions, keeping the grain inside well protected and safe from moisture. Our grain bins are also durable and reliable, lasting for years to come. Some benefits of grain bin construction from Quad County Ag include:
Strong, durable grain bins
Will withstand heavy snow, high winds, extreme temperatures, etc.
Unbeatable customer service
Large variety of grain handling equipment
Competitive and affordable prices
Varying bin sizes for small scale or commercial farms
Effective and long-lasting repairs services
Grain Bin Repair and Construction Services in IA & IL
Once your grain bins have been constructed, we can help supply you with any other grain handling equipment that you may need to keep your farm running smoothly. We make sure that the grain bin construction process is smooth, from start to finish. If you need concrete repairs, millwright services, or bin jacking services later on, our team can provide these services as well.
No matter what your grain bin needs are, we can help you come up with a design to suit you and your farm perfectly. Our grain bin design services can help you decide exactly what type of grain bin will work best for your Iowa or Illinois farm. The amount of grain needed to be stored and the location of the grain bin both factor in to the design, as larger grain bins need to be carefully constructed to retain structurally stable and grain bins in more open or exposed areas should be made with a sturdy design to withstand any harsh weather conditions. For help designing your new grain bin in Iowa or Illinois, do not hesitate to contact our team as soon as possible.
Contact Quad County Ag today for more information on our services. Our service area includes Iowa, Illinois, Indiana, and Nebraska.