Bin Jacking and Grain Handling in Iowa
Iowa is known for its rich Midwestern farmland. More than 90% of Iowa's land is used for agriculture to grow corn and soybeans. That's why Quad County Ag provides quality grain bins, grain dryers, and grain handling equipment to assist the residents of Iowa. With over 35 years of experience, we continue to grow in reputation and size. We are the fastest growing bin company in the industry that put our client's needs first. We can maintain, repair or replace your equipment. No job is too large or small for us to handle.
We offer the following services in Iowa:
Effective Designs: Whether it is for new construction or renovation, we use Auto Cad to meet your design needs.
Quality Products: We the latest products such as motors, conveyors, drying equipments, commercial grain bins, and farm grain bins to protect your investments.
Concrete: Our farm and agriculture masonry/concrete services include commercial bin foundations, receiving tunnels, tower foundations, and much more.
Millwright: Our millwright crew has the skills and expertise to construct, repair, maintain, and replace your existing equipment.
Bin Jacking: We safely install the latest equipment in the industry.
Crane: We have certified crane operators to effectively provide crane service.
Grain Bin Construction, Concrete Services, Millwright Services, and More in Iowa
By choosing our equipment and services, Iowa farmers will be able to easily move and store grain. We offer an array of products ranging in size to accommodate your farming needs. We also have a fully trained millwright team that can replace or repair your failing grain bins. We're here to serve your needs. These services help us to assemble, repair, and replace the equipment on your farm. Grain handling equipment that is not functioning as well as it could be can slow down your entire operation. Quad County Ag's millwright services can help get your farm back in running order to maximize efficiency and profit. Having your equipment looked over and repaired by our professional millwrights can also help to keep you safe, as malfunctioning equipment can be a hazard to you and any employees or family members. For quality and affordable millwright services for your Iowa farm, call Quad County Ag today.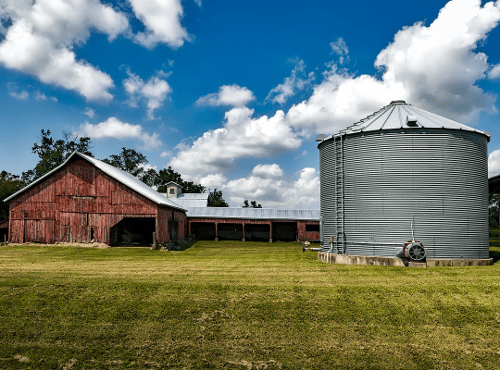 There are several occasions in which you may need to rely on the team at Quad County Ag, LLC. for professional grain bin repair services. Whether it is an issue with the grain bin itself, or if it is a problem with the grain bin's foundation, our team can help you out. We provide concrete services and grain bin foundation construction and repair services to take care of any issues that have to do with poorly compacted soil under your bin. We also offer millwright services as well as other repair methods to take care of damage that has resulted due to severe weather or harsh conditions.
Many residents in Iowa make Quad County Ag their preferred grain bin company because we offer the following benefits:
Strong, durable equipment and bins
Cost-effective, efficient products and professional service
Large accommodating facilities
Year around staff
Friendly service
Punctual service
Our skilled team and quality products will give you the very best Iowa farm or commercial bins. Let Quad County Ag be your bin jacking and grain handling service provider in Iowa. Contact us today!