Bin Jacking and Grain Handling in Indiana
Indiana is a large agricultural state that plays a vital role in producing corn and soybean every year. With more than a million acres used for farming, many farmers depend on Quad County Ag for quality service. Quad County Ag offers the latest farm/commercial grain bins, concrete services, grain handling equipment, bin jacking and millwright services to help protect your investment. We have been standing behind our products for over 35 years, helping residents in the state of Indiana keep their grains safe and dry.
Quad County Ag is the most preferred in Indiana's farming and commercial grain handling industry because we offer the following services:
Innovative Design: Our experts can custom design or revamp your grain storage facility to handle your storage needs by using Auto Cad.

Quality Products: We offer the latest equipment such as conveyors, motors, commercial/farm grain bins, and drying equipment.
Masonry and Concrete Services: We can structurally support your commercial grain bin foundations, receiving tunnels, pads for grain bins, and much more.

Skilled Millwright Crew: Our millwright crew is fully trained to handle any project design, concrete service, bin jacking, grain bin assembly, and other construction projects.

Bin Jacking: We repair damaged grain bins to help keep them in excellent condition and protect them from outdoor elements.

Certified Crane Operators: Our crane operators are fully trained and certified.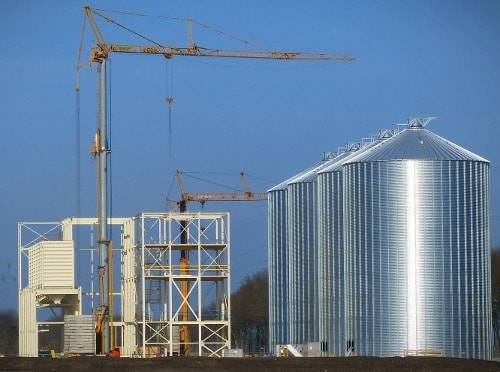 New farm equipment can be a huge investment. That's why we offer both commercial and residential equipment for sale or rent. We save you money by upgrading your rental equipment, so you can have the latest products on the market. We use partners such as Baldor, Chief Industries, Delux Continuous Flow Grain Dryers, and more. If you need equipment in a hurry, don't worry. Our equipment is delivered in a timely manner to avoid downtime. If you want used equipment, we got you covered. Maintain your farming needs by contacting Quad County Ag today. We offer used, new and rental equipment.
Quad County Ag wants to help make your job easier by offering the following amenities:
Competitive prices
Repairing and assembling equipment
Punctual delivery service
Professional service
Wide service area
35 years of experience
Skilled, trained team
Millwright Services for Indiana from Quad County
Our wide variety of services allows us to make sure that your farming operation is well cared for. If you are having issues with the grain storage or handling equipment on your farm, or if you are in need of maintenance for any of your farm equipment and machinery in Indiana, contact Quad County Ag, LLC as soon as possible, Our professional millwright crew will make sure that you receive quality service at an affordable price.
Millwright services in Indiana can help you maximize efficiency and yield by keeping all the components of your farm in good working order and preventing bin failure. Some of the duties of a millwright are to assemble and/or install new equipment, handle the moving of machinery and position pieces properly, maintain machinery and equipment, and use their understanding of fluid mechanics to make sure that all of the grain handling equipment on your farm is working as it should. The millwrights at Quad County Ag are able to complete all of these tasks to ensure that your farm's equipment is as efficient and reliable as possible. This is important for farmers in Indiana, as the better your equipment functions and the more effectively that it is able to move and store grain, the better your farm will produce as a whole. Call us now for quality millwright services for your Indiana farm.
Contact Quad County Ag if you need professional service in the state of Indiana. We are here to serve you for all of your farming and commercial grain needs.