Home > Service Area
Quad County Serves Arkansas, Iowa, Illinois, Nebraska, Indiana and Louisiana
Whether your grain bin storage needs are for your Midwest farm or for commercial needs, Quad County Ag, LLC has the expertise and products to provide you with whatever needs you have. Quad County Ag, LLC is your Midwest company for commercial or farm grain handling and storage needs. We have skilled millwright crews that can replace, maintain or repair your equipment. We use Auto Cad to handle design needs for expanding your current grain storage facility or for your new facility needs. Quad County Ag can provide you with motors, conveyors, drying equipment and grain bins. We also have a concrete crew that specialized in commercial bin foundations, receiving tunnels, tower foundations and more. Quad County Ag also has crews that use the latest equipment to safely and efficiently to jack the largest bins in the Midwest. We also provide certified crane operator to provide crane services throughout the Midwest.
With over 35 years of experience, our company has the experience and equipment to handle any of your grain handling needs. Let the professionals at Quad County Ag help you with of your farm or commercial grain handling.
Millwright, Grain Bin, and Farm Equipment Experts for the Midwest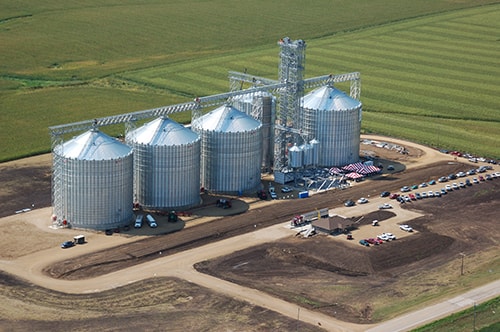 Quad County Ag has the millwright team that is fully equipped and trained to handle any job you need. Our millwrights have many years of experience and are experts in many areas such as:
Project design
Concrete
Millwright services
Grain handling equipment
No matter how complex the project is, our millwright team can handle it.
As a farmer in the Midwest, you need to move and store you grain easily. Quad County Ag offers a large product line so we will have the right size and quality you need for your grain storage. We also have a skilled millwright team that can repair your grain bin. Whether you are in need of a replacement grain bin, new grain bin, or repair for your grain bin, we are the company that can serve your needs.
The Midwest has a growing need for commercial grain bins. Our commercial grain bins are up-to-date with the latest technology to withstand any type of conditions. The benefits of our commercial grain bins are:
Strength
Cost effective
Large storage facility
Varying sizes
Year around staff
Punctual service
Quad County Ag is the leading manufacturer of farm grain bins grain handling equipment, commercial storage, grain bins, bin jacking , and concrete services in the Midwest. Our products are tested to perform at the highest capacity. Let the experts at Quad Count Ag help you with any of your farm equipment needs.
With our skilled team and best products available, you will be getting the best when you have Quad Count Ag serve your Midwest farm or commercial grain bin needs. We have been providing the Midwest with quality grain handling and storage needs for over 35 years. Contact us today!
Quad County Ag started with construction of farm grain bins and has grown to provide more products and services to our customers in the Midwest. We are still family owned and operated and take pride in our work. Let us help you with any needs you have.
Here at Quad County Ag, we provide service to all fifty states:
We cover all fifty states. If you are in need of any sort of grain bin construction or repair, millwright services, or concrete services, call the experts at Quad County Ag, LLC. today and check out our current projects here!