Bin Jacking and Grain Handling in South Dakota
The open fields and rolling hills in South Dakota are perfect for growing all sorts of grain and other crops, from corn, to soybeans, to wheat, to sunflowers. No matter what type of grain you farm in South Dakota, Quad County Ag, LLC. has the grain bins and grain handling equipment and solutions that you have been searching for. Because the state of South Dakota is dominated by agriculture rather than metropolitan living, grain storage is one of the most important services in the state.
For more than 35 years, we have been providing farmers in South Dakota with the services that they need to maximize production and minimize waste on their farms. Do you need a new farm grain bin or commercial grain bin for your farm? We offer grain bin design and construction services that are flexible enough to fit the individual needs of your farm. The size and design of our grain bins can be customized to work specifically with your operation. We also offer bin jacking and grain bin repair options for farmers whose grain bins have suffered from age or from weather damage. Do not let hail, wind, or other damaging weather put your equipment and grain bins out of order. Contact Quad County Ag for all of your grain bin repair needs as soon as possible.
These are some of the services that we offer for your South Dakota farm:
Bin Jacking
Grain Bin Foundation Repair
Farm Grain Bins
Millwright Services
Crane Services
Grain Handling Equipment
For these and more great equipment repair and grain storage options in South Dakota, get in touch with our expert team of millwrights and grain bin contractors as soon as possible.
Millwright Services, Grain Handling, Grain Bin Concrete, and More in South Dakota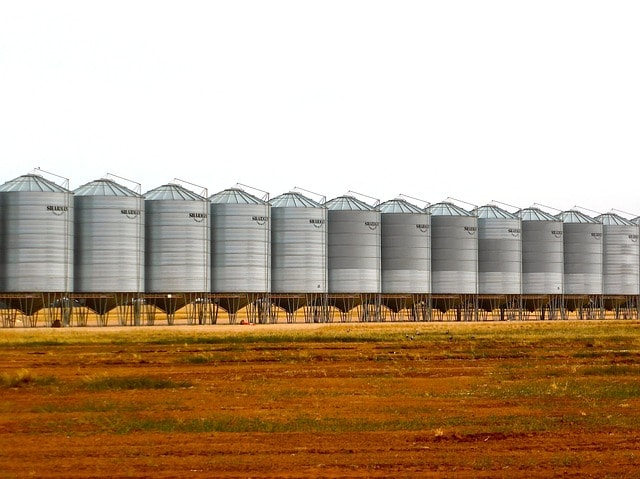 Grain bin concrete and foundation repair services are solutions that can prevent a foundation issue from jeopardizing the integrity of your grain bin. If your grain bin foundation is already failing, contact Quad County Ag to invest in grain bin foundation repair. If you are having a new grain bin installed, our concrete services can help get your grain bin off to the right start.
Our team offers several benefits that might not be as apparent if you work with another company:
Efficient Designs: We an work with you to design a grain bin that is just what you are looking for, from the foundation up.
Affordable Pricing: We know that you are trying to get the very best for your farm without breaking the bank. That's why we offer affordable grain bin and repair options.
Quality Products: Our products are made to stand up to the test of time as well as the harsh weather conditions common in South Dakota.
Friendly Staff: Whether it is the office staff or the field workers, our company values your satisfaction above all, prompting us to treat you with respect and keep you involved.
Reliable Solutions: Whether we are putting in a new grain bin or repairing your grain handling equipment, we make sure to do quality work.
For more information on any repair options that we offer, call Quad County Ag's team of millwrights. We offer professional millwright services to repair and replace any grain bins or equipment on your farm. These services will not only ensure that your equipment runs smoothly, but also that it is safe for you and any employees. Contact us today for millwright services and more in South Dakota.