Bin Jacking and Grain Handling in Illinois
The Midwest is rich in farmland. Quad County Ag provides Illinois with high-quality grain bins, grain dryers, and grain handling equipment. We understand that as a farmer in Illinois, it is important to move and store your grain easily. Quad County Ag offers a large product line so we have the proper size and high-quality grain storage bins.
Whether your need for grain storage is for your farm or for your commercial needs, Quad County Ag has the expertise and products to fulfill your needs. We also have a skilled millwright team that can replace, maintain or repair your equipment. We use the latest equipment to safely and efficiently to jack the largest bins in the Midwest.
We offer the following services in Illinois:
Farm grain bins
Commercial grain bins
Concrete
Grain handling equipment
Millwright services
Bin jacking
Our skilled group of employees will help you with the design, implementation, and installation of your grain bins. We can help you figure out the best solution to meet your grain storage needs. We use Auto Cad for your design needs whether it is for new construction or renovation. We use the latest products such as motors, conveyors, drying equipment, commercial grain bins, and farm grain bins that will hold up for years to come.
Concrete, Grain Handling Equipment, Millwright Services, and More for Illinois Farms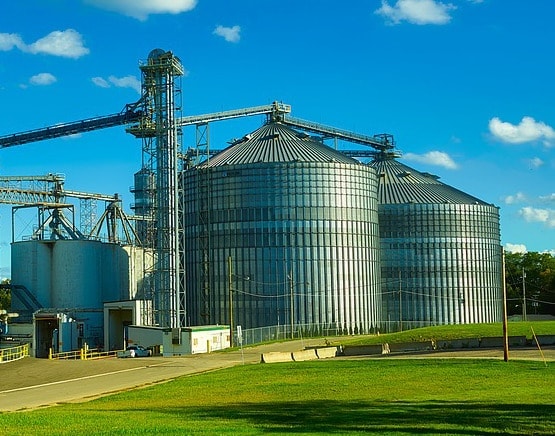 Our farm and agriculture masonry and concrete services include commercial bin foundation, receiving tunnels, tower foundations, and much more.
We offer quality grain handling equipment to help make your job easier. Some of the advantages of our grain handling equipment are:
Quality materials
Come in various sizes
We assemble and repair your equipment
Competitive prices
Controls moisture and humidity
Deliver equipment in a timely manner
Quad County Ag has a millwright team that is focused on quality work and is fully equipped and trained to handle any job you need. They have extensive knowledge in the grain and seed industry. They are dedicated to keeping your equipment running smoothly.
Quad County Ag knows how important it is to have a safe place to store your grain. That is why we offer bin jacking services to take care of grain bins that are in need of repair. Bin jacking is used to lift the grain bin so that new panels or a new foundation can be installed. Your repair will be done in a short time so that you can keep your farm up and running.
For all of your grain bin needs in Illinois, you can count on the team at Quad County Ag. We have been in business for over 35 years and have the products and experience to fulfill your bin jacking and grain handling needs for your Illinois farm. Contact us today!