Bin Jacking and Grain Handling in Nebraska
The state of Nebraska is rich in Midwest farmland. Much of the land is used to grow corn and soybeans. Quad County Ag provides the state of Nebraska with quality grain bins, grain dryers, and grain handling equipment. With over 35 years of experience, our company continues to grow in reputation and size. Quad County Ag is the fastest growing bin company in the industry. We will maintain, repair or replace your equipment. By choosing our services for your Nebraska farm, you will be able to easily move and store your grain.
We offer the following services in Iowa:
Bin Jacking: We safely install the latest equipment in the industry.
Effective Designs: Whether it is for new construction or renovation, we use Auto Cad to meet your design needs.
Quality Products: We the latest products such as motors, conveyors, drying equipments, commercial grain bins, and farm grain bins to protect your investments.
Concrete: Our farm and agriculture masonry/concrete services include commercial bin foundations, receiving tunnels, tower foundations, and much more.
Millwright: Our millwright crew has the skills and expertise to construct, repair, maintain, and replace your existing equipment.
Crane: We have certified crane operators to effectively provide crane services.
Millwright Services, Grain Handling, Grain Bin Concrete, and More in Nebraska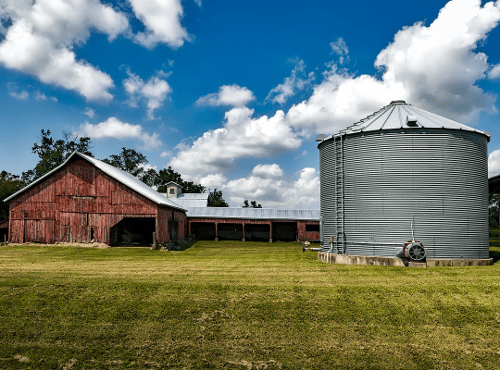 By choosing our equipment and services for your Nebraska farm, you will be able to easily move and store your grain. We have an array of products to accommodate your needs. Our fully train millwright team can repair or replace your existing grain bin. We also repair and replace grain handling equipment with our millwright services. Make sure that your farm and grain equipment is in good shape to keep your farm running smoothly and without any safety hazards. Our millwrights provide metal fabrication on site and years of experience repairing and maintaining all of the different grain equipment on your farm. Let us know how our professional millwright services can help you out today. We offer all of the following services in Nebraska to keep your farm in great shape:
Bin jacking
Concrete
Grain handling equipment
Millwright services
Farm grain bins
Commercial grain bins
Bin jacking is used to lift the grain bin when it is in need of new panels of new foundation. Our team will repair your grain bin in a short amount of time so that your farm can keep running smoothly. The products we use are the best in the industry and cost-effective. We are available year round for all of your grain bin needs.
With over 35 years of experience and offering quality products, you can count on Quad County Ag to deliver the best product that will last for years to come. We use Auto Cad to handle your design needs. No job is too big or too small. Whether you are expanding your farm or building a new facility for grain storage, we can get the job done and get your operation going.
Our skilled team and quality products will give you the very best farm or commercial bins in Nebraska. Let Quad County Ag be your bin jacking and grain handling service provider in Nebraska. Contact us today!