Home > Services > Grain Bin Foundations
Grain Bin Foundations
Having solidly constructed grain bins is vital for farmers across the Midwest. Fortunately, Quad County Ag, LLC is able to construct a quality grain bin for your farm from the ground up. Before the actual grain bin can be put up, a foundation must be put in to support the grain bin. If this foundation is not able to offer the proper support for the grain bin, several issues could develop, including grain bin failure and damaged yield.
Foundation problems often arise when the ground beneath the grain bin is not packed down well enough. Before the grain bin is laid, the ground underneath should be well-compacted. This will prevent it from falling away or shifting later on. Once the ground is compacted, the foundation can be laid.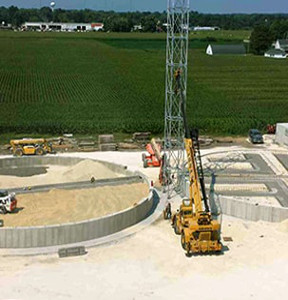 This is a particular process that requires the expertise of trained professionals. The concrete needs to be properly mixed according to the temperature and the amount being used. If it is mixed improperly, it may start to heave or crack as time goes on. This can lead to water leakage and other serious issues that could cause damage to the grain stored in the bin.
There are several ways that a grain bin's foundation can start to show signs of failure. Some of the most common signs of grain bin failure are:
Cracks in Foundation
Foundation Settlement
Shifted Foundation
Foundation Heaving
Sloped or Uneven Foundation
Grain Bin Pulling Away from Foundation
Grain Bin Foundation Repair in Iowa and Illinois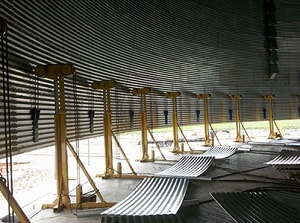 If your grain bin is starting to show signs of failure, you may need to invest in bin jacking services from Quad County. Bin jacking is a process that we use to temporarily lift a damaged grain bin so that we can repair the foundation underneath. Once the grain bin is lifted, new panels can be installed to the bin itself, or cracks in the foundation can be sealed. If the problems with the grain bin's foundation are severe enough, an entirely new foundation may even be an option.
We also offer a couple of other repair services to fix your grain bins, including concrete services and millwright services. If there is a problem with your grain bin's concrete foundation, it may be necessary for us to install a new foundation or put in new leg towers or other concrete structural supports. Millwright services can help to repair any of the grain handling equipment that goes along with grain bins.
If you are looking for grain bin foundation construction or repair in Iowa or Illinois, look no further than Quad County Ag, LLC. Contact us today for more information!