Grain Bin Repair
Quad County Ag has been installing grain bins for over 30 years. We also do grain bin repair and grain bin upgrades. If you have a grain bin that has been severely damaged by a storm, has a simple dent, or has roof damage, Quad County Ag can get your grain bin looking like new. We will assess the damage and offer the best solution for the repair.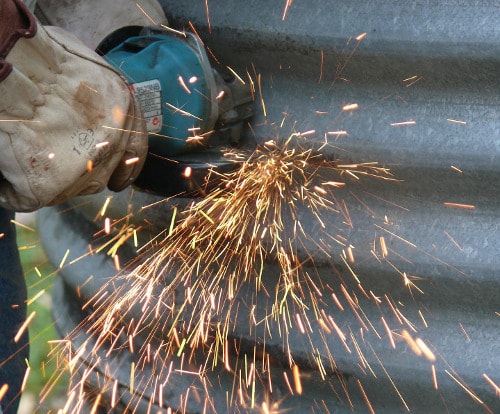 We use the best products and materials to repair your grain bin. We will replace damaged sheets and will do partial or complete roof replacements. There are many reasons why it is important to repair a damaged grain bin. Some of these reasons are:
Water infiltration that damages grain
Concrete damage - When coating wears away, it exposes the concrete to the elements.
Loss of roof coating leads to deterioration of the material below it
It is vital to have a professional inspect your damaged grain bin. There can be damage to a grain bin that is not visible such as extreme weather that has caused the ground beneath the ground to shift, causing the bin to shift. This can change the integrity of the structure.
Grain Bin Inspection in IA & IL
Quad County Ag has the experts to come and inspect your grain bin and check for damage. Some of the things we will look for are:
Rust in the steel
Spalling
Delamination of the concrete
Shifting of the foundation
After inspection, we will offer the best grain bin repair method to get it back to its original effectiveness.
Quad County Ag has over 30 years of experience and has established an outstanding reputation. We are a family owned and operated business that was established in 1979. We have the tools and experience that is necessary to keep your grain bin in good condition. Our team can help with bin foundation problems, worn out equipment, and bins that have been damaged from harsh weather.
Don't let a damaged grain bin cause damage to the grain that it has stored in it. This can cause you to lose money. Let Quad County Ag inspect your grain bin and offer you the grain bin repair that is needed to keep it effective. Contact us today.