Bin Jacking and Grain Handling in Michigan
The state of Michigan has its share of rich farmland. About 80% of the farmland in Michigan is in the southern half of the lower peninsula but there is farmland scattered throughout the entire state. Corn, soy beans and wheat are some of the grains that are farmed in Michigan. That's why Quad County Ag provides quality grain bins, grain dryers, and grain handling equipment to assist the residents of Michigan
Quad County Ag has over 35 years of experience and we continue to grow in reputation and size. We are the fastest growing bin company in the industry. We put our customer's needs first to maintain, repair or replace your equipment that put our client's needs first. No job is too large or small for us to handle.
We offer the following services in Michigan:
Design: We will work hard to design a grain bin that is perfect for your unique farming operation. We use Auto Cad for your design needs. Whether you are expanding your current grain storage facility or building a completely new facility, Quad County Ag can handle your design needs.
Quality Products: We have the latest quality products such as motors, conveyors, drying equipments, commercial grain bins, and farm grain bins to protect your investments.
Grain Storage: Quad County Ag can provide you with all of your grain storage needs. From small-scale to commercial grain bins, we can help. Our grain storage bins keep your grain safe from moisture as well and harmful insects and pests. They are also designed to provide protection against the harsh weather conditions.
Concrete: The foundation of your grain bin is what supports the entire structure. That is why it is important to have a specialist provide the concrete services for your grain bin. Our farm and agriculture masonry/concrete services include commercial bin foundations, receiving tunnels, tower foundations, and much more.
Millwright: Our millwright crew has the skills and expertise to construct, repair, maintain, and replace your existing equipment. Investing in millwright services from Quad County Ag can save you money and hassle and keep you and your crew safer on the job.
Bin Jacking: If you have cracks or settlement in your grain bin foundation, contact the bin jacking team at Quad County Ag. We have the latest equipment to safely and efficiently bin jack even the largest bins.
Crane: We have certified crane operators to effectively provide crane service.
Grain Bin Construction, Concrete Services, Millwright Services, and More in Michigan
By choosing Quad County Ag equipment and services, Michigan farmers will be able to easily move and store grain. We offer We offer products ranging in size to accommodate all of your farming needs. We also have a fully trained millwright team that can replace or repair your failing grain bins. Our millwright services help to assemble, repair, and replace the equipment on your farm. If your gain handling equipment that is not functioning as well as it could be, it can slow down your entire operation. Quad County Ag's millwright services can help get your farm back in running order to maximize efficiency and profit. Having your equipment looked over and repaired by our professional millwrights can also help to keep you safe. Malfunctioning equipment can be a hazard to you and your employees. For quality millwright services for your Iowa farm, call Quad County Ag today. Not only will you get the quality, but it will be at an affordable price.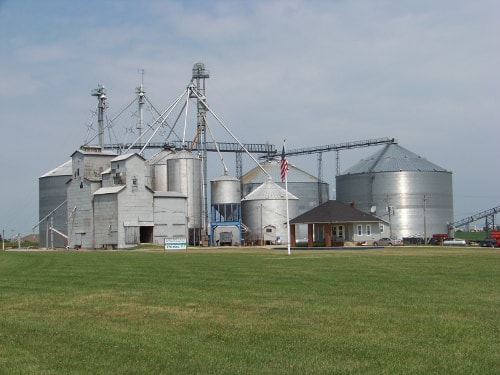 If you are in need of grain bin repair services, Quad County Ag has a reliable team to get your grain bin repair done quickly and efficiently. Whether it is an issue with the grain bin itself, or if it is a problem with the grain bin's foundation, our team can help you out. We will provide you with concrete services if your concrete has cracked or settled.
When you contact the professionals at Quad County Ag, you will be getting the most preferred grain bin company in Michigan because we offer the following benefits::
Friendly service
Strong, durable equipment and bins
Cost-effective, efficient products and professional service
Large accommodating facilities
Year around staff
Punctual service
For all of your grain handling, bin jacking or millwright needs, contact the skilled team at Quad County Ag. Contact us today!