Home > Grain Handling Equipment
Grain Handling Equipment
Quad County Ag LLC is Iowa's leading manufacturer for farm grain bins, grain handling equipment, commercial storage grain bins, bin jacking, and concrete services. Our skilled crew builds everything from the ground up. We use the latest technology and material to withstand any type of vigorous conditions in any environment. The durable equipment from Quad County Ag, LLC can help to prevent setbacks on your farm. We also have a professional team of millwrights that specializes in installing, assembling, and repairing grain handling equipment.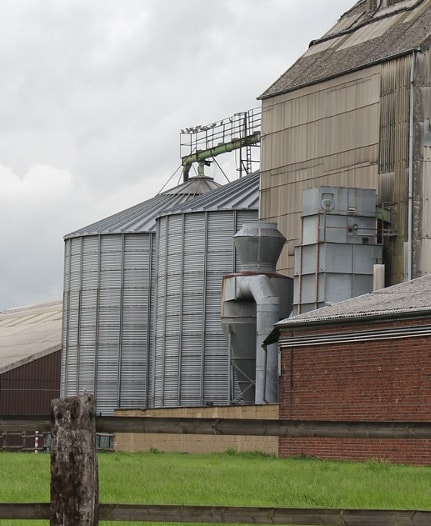 Our products are field tested to perform at the highest capacity. We offer the following grain handling equipment:
Bucket Elevators - Agricultural
Drive Over Hopper
Hi-Efficiency Series
Horizontal Drag Chain Conveyors
Model D150 Commercial Sweep
Model TD-450
U-Through Power Sweep - 10,000 Bushel Per Hour
U-Through Power Sweeps
Get The Most From Your Grain Handling Equipment
Are you satisfied with your grain handling system? Do you have enough storage capacity? We know that your farming operation is a big investment, which is why we use quality equipment to help make your job easier while protecting your investment. We offer grain storage in Iowa that is both durable and varying in size. If you are in need of grain handling or storage equipment, our team will help you to determine the best possible option for your operation at the lowest price. Our products can also help to make your farm more efficient, lowering costs associated with owning equipment. Keeping your farm running efficiently should be your primary concern. With grain handling equipment and crane services from Quad County Ag, LLC, you can rest assured, knowing that you will receive the best equipment for your individual farm. Our grain handling equipment offers the following advantages:
Quality products and materials
Our grains come in various sizes
We can assemble and repair your equipment
We use the latest equipment on the market to efficiently move grain
Reduce drying costs up to 50%
We offer competitive prices
Our equipment controls moisture and humidity
We deliver our equipment in a timely manner
We also partner with reliable manufacturers to make sure that we give you reliable options. Our partners include Baldor, Chief Industries, Delux Continuous Flow Grain Dryers, Grain Handler, Shurco, Hutchinson/Mayrath, and more. For quality grain handling equipment, Quad County Ag LLC has the accessories that you need in stock. Our team will make sure that these products are ready to be shipped to your Iowa location. Our service area also includes Indiana, Illinois, and Nebraska. Contact Quad County Ag LLC today. We guarantee top-notch service and quality material at competitive prices. To learn more about our grain handling equipment, contact us today.