Home > Blog > Grain Bin Failures
Common Causes Grain Bins Fail
Tis the season we really start to use our grain bins. Everyone is thinking about grain bin safety. Another thing want to talk about is grain bin failure. We do a lot of grain bin repairs, and are all to familiar with the reasons they fail. Belt conveyors, pellet mills - we think of these as pieces of equipment that need to be cared for. But while a grain bin is a structure, it is also a piece of equipment that needs to be taken care of.
The bigger it is, the harder it falls.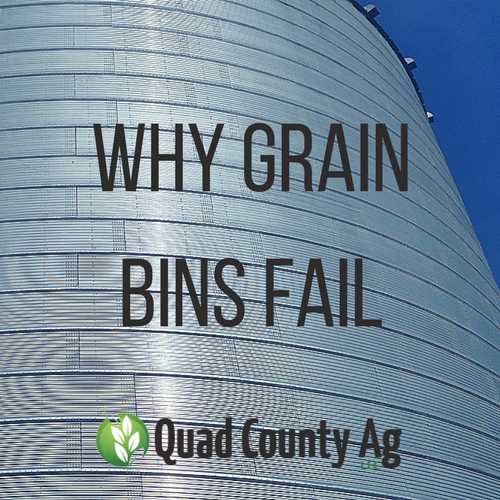 The taller a structure is, the bigger the load is on the grain bin foundation. If the soils beneath the structure aren't strong enough to hold the load or the foundation wasn't built on load bearing soil to begin with you may have a problem. When buildling a grain bin foundation soil samples should be taken to make sure the structure can support the weight of the full structure. Also, if there has been a lot of rain, it can change the consistency of the soil and cause problems as well. It's wise to watch for cracks in a grain bin foundation and have them checked out when you find them.
Bins aren't one size fits all.
Just because a grain bin looks another grain bin doesn't mean they are the same. Grain bins are designed for specific types of material and applications. It is important to get the right grain bin for your needs. Before you erect a grain bin you should make sure the design suits your needs.
Don't misuse your grain bin.
Use your grain bin properly. Make sure everyone that will be working with the bin knows how it works. Human error is the leading cause of bin problems and failure. If there is too much lateral pressure from the load in the bin because it has been overloaded failure can occur. That is just one of the things that can happen due to human error. Training and guidance is important to the health of your grain bin, and all of your equipment.
Weather is beyond your control.
Some things you just can't foresee. Weather is one of these things. All you can do is keep track of the weather and try to be prepared for dangerous conditions for your grain bin. Wind, ice, harvest materials that are wet can all spell disaster for your grain bin.
Construction is in the details.
If your grain bin isn't built to standard, you can have issues. Hiring a grain bin design and erection team that has experience is key. The team at Quad County Ag, LLC has been around the block and knows grain bin repair, erection, and grain bin foundation repair. We work on large commercial grain bins to smaller operations and can assist in any given situation. We have served farms all accross the country.