Home > Blog > What to Know About Grain Bin Erection in the Midwest?
What to Know About Grain Bin Erection in the Midwest
Grain bins a vital part of every grain farm. For that reason, it can be intimidating to find someone to build you a new grain bin. You want a company that is experienced and uses the best materials available. That company is Quad County Ag.
Quad County Ag specializes in grain bins and grain storage equipment of all kinds throughout the Midwest. If you are looking to expand your operation or are in need of a new grain bin to replace an old one, we can help. We offer grain bin erection of all different kinds for both small family farms and large commercial farms. Our dedicated staff has years of grain bin knowledge and is experienced in both grain bin construction and repair. We even offer grain bin foundation and concrete services to handle your grain bin erection project from start to finish. But choosing the right company is only one aspect of erecting a new grain bin. Below are some things to consider throughout the grain bin erection process.
Some Things to Consider When Erecting a New Grain Bin on Your Farm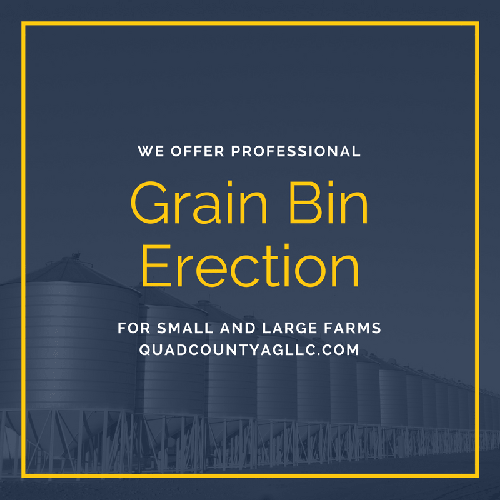 There are a lot of things that you should be thinking about when trying to find the right grain bin erectors for your farm. Some important things to keep in mind include:
Scheduling: If you are going to need your new grain bin before harvest, it is important to get in touch with the grain bin construction company as soon as possible. If you push the start date back too late, it can be difficult for crews to get the bin up before fall, so get in touch with a contractor as soon as possible or be thinking about whether or not you are going to need a new grain bin in the future as you are harvesting.
Placement: Moving grain bins is not easy - they are, more or less, a permanent structure, so you should think carefully before placing one in the middle of your yard. You should also consider expansion. If you plan to expand your operation at all, it is beneficial to factor that possibility of expansion into your grain bin design, including its location. Make sure there is enough room for more grain bins to be added in the future or for your new grain bin to be enlarged if necessary, and also consider the ease of access of the location.
Cost: While you definitely want to stay within your budget range, it may not be wise to cut corners in terms of labor or grain bin size. Some farmers in the past have attempted to save money putting up small grain bins. However, the cost per bushel of these smaller bins might not be worth it, especially if you are going to need to put up more bins because you did not plan large enough. Cheap labor is another thing that might sound good in theory but usually does not work out well in practice. It is also important to watch out for extra features that rack up cost that some companies try to sneak into the plan. Be sure that you talk to the grain bin erectors so that you are both on the same page and you know what to expect.
Breaking Down The Grain Bin Erection Process from Quad County Ag
The first step in erecting a new grain bin is to determine the size and type of bin needed for your specific farm. We build grain bins in sizes varying from 49' to 150' in diameter. Our team comes up with a design that will prevent problems with bulk-solids flow and consists of the highest possible quality construction materials to ensure that the grain bin stands the test of time. We will also work to incorporate any functional components or additional requirements that you may need depending on what type of grain you will be storing and what kind of operation you are running.
Once we have discussed your storage needs with you, our team will get to work building the actual grain bin. First, we pour a concrete slab the appropriate size and thickness for your grain bin. Next, we start constructing the grain bin walls and erecting the bin. Our crew makes sure to use only high-quality materials that will resist harsh weather conditions and will endure long wear to keep the product inside the grain bin safe. The bins that we erect stand up to heavy snow, high winds, and extreme temperatures - both hot and cold.
We are always utilizing the latest technology to make sure that your grain bin is as efficient and strong as possible. Our team works carefully yet quickly to ensure minimal downtime for you and your farm. Whether you need a large grain bin or a small one, our experts can help. We are your expert grain bin erectors in the Midwest. Contact us for all of your grain bin erection needs.